How to Submit a Sample
How to Submit a Sample:
Please use this form for proper specimen submission. All requests must be written in English.
Please click to open either PDF file A or B. Use PDF file A for medical professionals (e.g. physicians, nurses, etc.), or PDF file B for non-medical professionals.
Send urine sample on filter paper as "dried urine on filter paper", using appropriate filter paper.
Send specimen via air mail to:
Japan Clinical Metabolomics Institute
Hamakita I 13-2, Kahoku, Ishikawa 9291174, Japan
On the request form please state your; date of birth, sex, nationality, and the date of the urine sample collection. Please note: the full name of the patient to be analyzed need not be provided (however some form of patient identification must be given; e.g. initials or identifiable symbols).
Moreover, the full name of the person (s) requesting the analysis must be provided (e.g. appropriate health care providers). This must include their mailing address, e-mail address, and appropriate signatures.
How to submit urine samples:
We generally only accept fresh spot urine samples as "dried urine on filter paper". Please use slightly thick filter paper as shown in the figure, but another suitable filter paper may also be acceptable. Please contact us for submission question.
Urine contaminated with feces cannot be used for inspection even if it is faintly. Please take a new sample.
Material; Cellulose(100%) based filter paper
Size; Approximately 60 x 80mm, thickness; 0.7mm
(Up to 2 ml of urine can be adsorbed).
Please write the sampling date and patient name within the area 15mm from the long side edge.
(This area can be handled)
After air-drying, put it in a plastic bag.
Please click here for more details.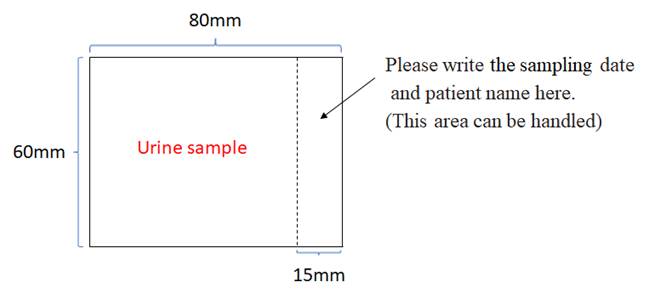 Examination Fee (Apr 2018- Oct 2018):
JPY 30,000 (JYP: Japanese Yen, only Japanese Yen will be accepted).
JPY 20,000 for focused rare diseases (1, 2)
1. Focused on rare diseases responsible for kidney stones:
Several rare diseases responsible for kidney stones cannot be detected by current examination. It looks like a general kidney stone or looks like a mild illness, but it causes kidney failure and causes failure of the kidney transplant. We recommend early detection and early treatment in order to avoid possible future dialysis. With only a small amount of spot urine, we could detect these rare diseases and report many case studies.
2. Focused on rare diseases that cause apparent epilepsy:
Although the proportion in epilepsy patients is low, some apparent epileptic patients have rare metabolic disorders. They look as having epilepsy, but that is not true. Anticonvulsants are neither effective nor nontoxic for them. Our metabolomics examination is strongly recommended in order to realize personalized medicine.
Remittance Destination:
Japan Clinical Metabolomics Institute Tomiko Kuhara
Account Number
506-6022001
SWIFT Address
FKUIJPJT
Please complete the remittance with the arrival of the specimen. Alternatively, attach a copy of the transfer certificate along with the specimen.
Upon receipt and analysis of specimen, examination fee is nonrefundable.
For remittance, we recommend
TransferWise https://transferwise.com
Confidentially:
We will only communicate the results of our analysis to the submitting health care provider or other specified individuals; in general, the person (s) requesting the analysis in both forms. If not, please specify.
Disclaimer:
The quality of the metabolite-level diagnosis by JCMI is guaranteed (see Quality of JCMI metabolome analysis) However, due to the complex nature of this analysis, certain results are subject differential interpretation. These variables may be influenced by factors such as metabolic conditions, medications, infusion fluid, nutrition, general health status and the specific state of some diseases.
Specimens which are of insufficient quantities, exposed to microbial contamination (e.g. fecal contamination), or transported under inclement conditions cannot be analyzed, and a re-submission may be requested.